American Shorthair Kittens for Sale
American Shorthair Kittens for sale
Ari has found her forever home, she is SOLD and will grace her new family with her unmistakable smile. Ari is a girl that thrives on being held and loves to cuddle. She is very, very affectionate and would be perfect for anyone who wants a cuddle bunny. Look at that smile, a sparkle of life and a million-dollar smile.
---
Axel has found his forever home, he is SOLD. He is an incredibly affectionate boy. He purrs every waking minute and just wants to be with you. This boy is perfect for someone who wants a lap cat that wants to crawl under your skin.
---
---
One of our gorgeous mamas with her newborn babies.
---
Below are a series of photos of kittens from past litters which can give you a good idea of the quality of kittens that we produce.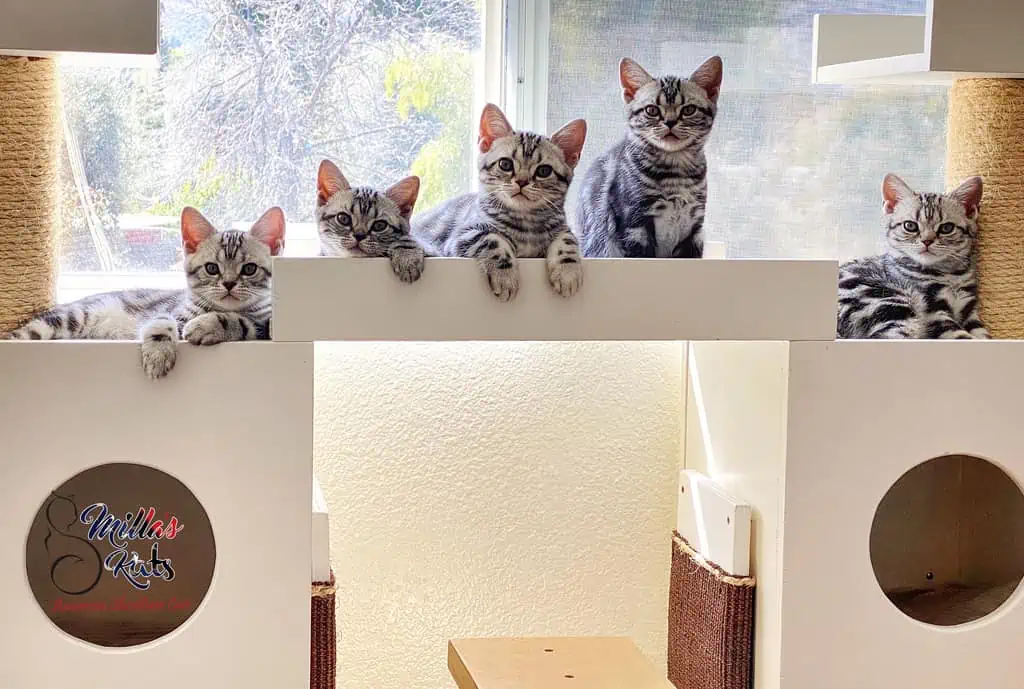 All the kittens showcased below this sentence are from past litters and they have all been placed.
A very good representation of our Silver American Shorthair Kittens for sale. These kittens are four months old and from five different litters with different sires. As you can see, they are almost clones of each other which is an excellent sign of a well-planned breeding and pair selection. We strive to breed the highest standards outlined in the CFA and TICA guidelines.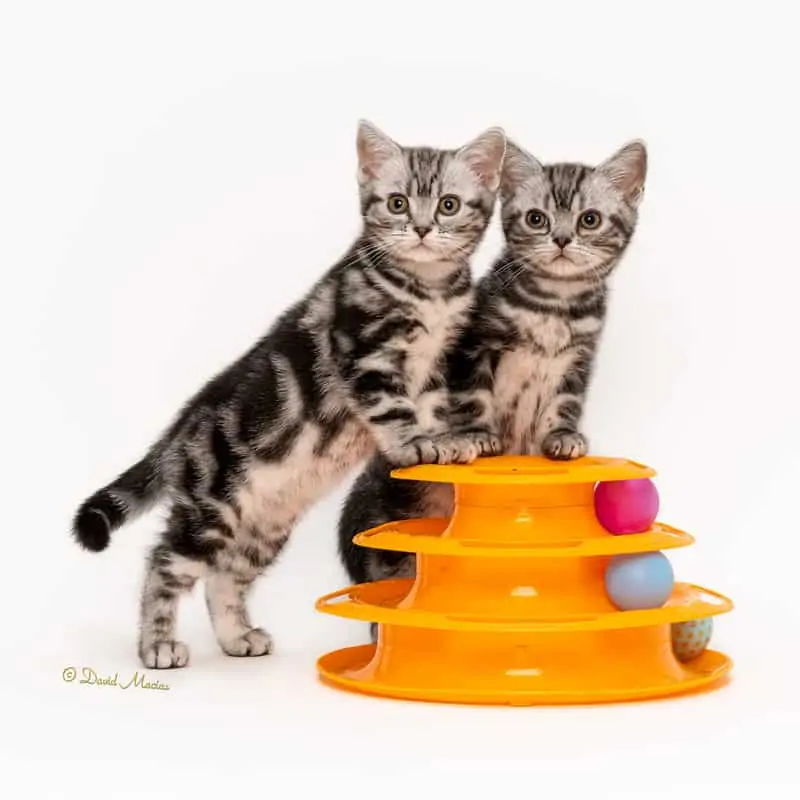 As American Shorthair Breeders, we have a responsibility to produce healthy, well socialized kittens that meet the breed standard. Our kittens are well adjusted before they leave for their forever homes so they can enjoy a healthy life with their new families.
We have Kittens for sale that meet all these standards and we continually strive to improve.
American Shorthair Breeders
We are based in Southern California and service the entire state. Our kittens are playful, active, affectionate, sociable, friendly and healthy.
"Yummy, yummy, yummy"
Our babies are raised on our own proprietary raw meat blend. We spent years developing our recipe. We introduced our babies to our raw diet as early as four weeks. Given the opportunity, they will continue eating it throughout their entire life.  Because cats are 100% carnivorous, we feel that a raw diet is the best food they can be raised on. As a result, our kittens grow to be strong, healthy, and have the opportunity to reach their life expectancy of fifteen to twenty years. Nutrition is a key factor in how your kitten will develop and reach adulthood. Nutrition is also one of the most important factors in them reaching their full life-expectancy which is fifteen to twenty years.
Once in a while we may have a retired adult looking for a forever home. To see what may be available, please click this link Available Adults to see some of our gorgeous American Shorthair Cats that might be retired. Bear in mind that this is rare as once we retire out cats from breeding, very often they remain with us for the rest of their life. They have served us well so we give them the best life a cat can have.
The best way to get a kitten from Milla's Kats is to reserve a kitten. A small reservation fee is required which is refundable until the kitten is selected. The selection process occurs at 12 weeks of age. Please check with us to see what's available and inquire how to make a reservation on our upcoming litters of American Shorthair Kittens for sale.
We are located near Temecula, the Napa Valley of Southern California. We service all of California and surrounding states.
We also provide personal courier service anywhere in the United States and select foreign countries. We do not ship via cargo.
For more details on our American Shorthair Kittens for Sale please visit our Policies page or contact us. We are always available to answer any questions and return all our emails and phone calls.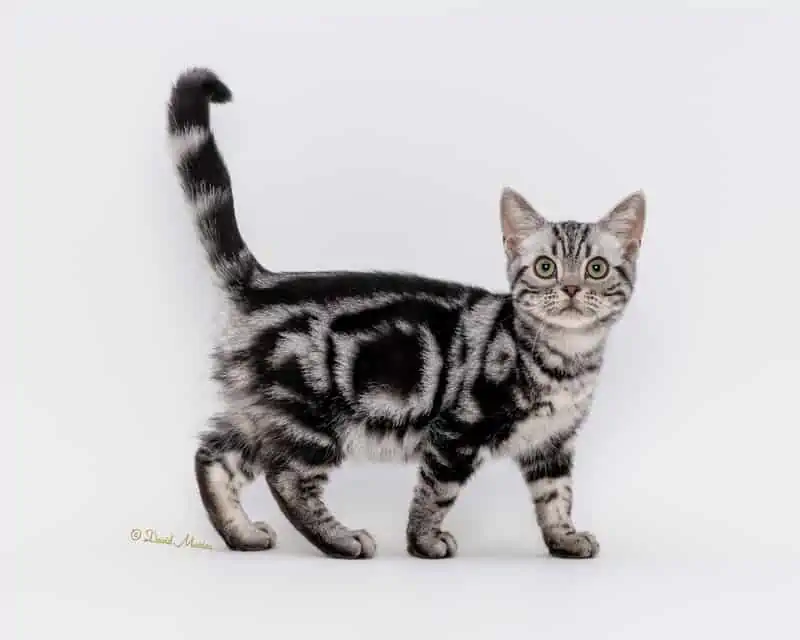 Available Kittens
Below are some adorable videos of our American Shorthair Silver Tabby babies having fun. They sleep, they play, the jump, they purr. All of these Silver Classic Tabby babies are now with their forever homes enjoying life to the fullest.  Our American Shorthair Silver Classic Tabby kittens for sale can be reserved for a nominal refundable deposit (restrictions apply). For more information on our Available Kittens and American Shorthair cats please contact us.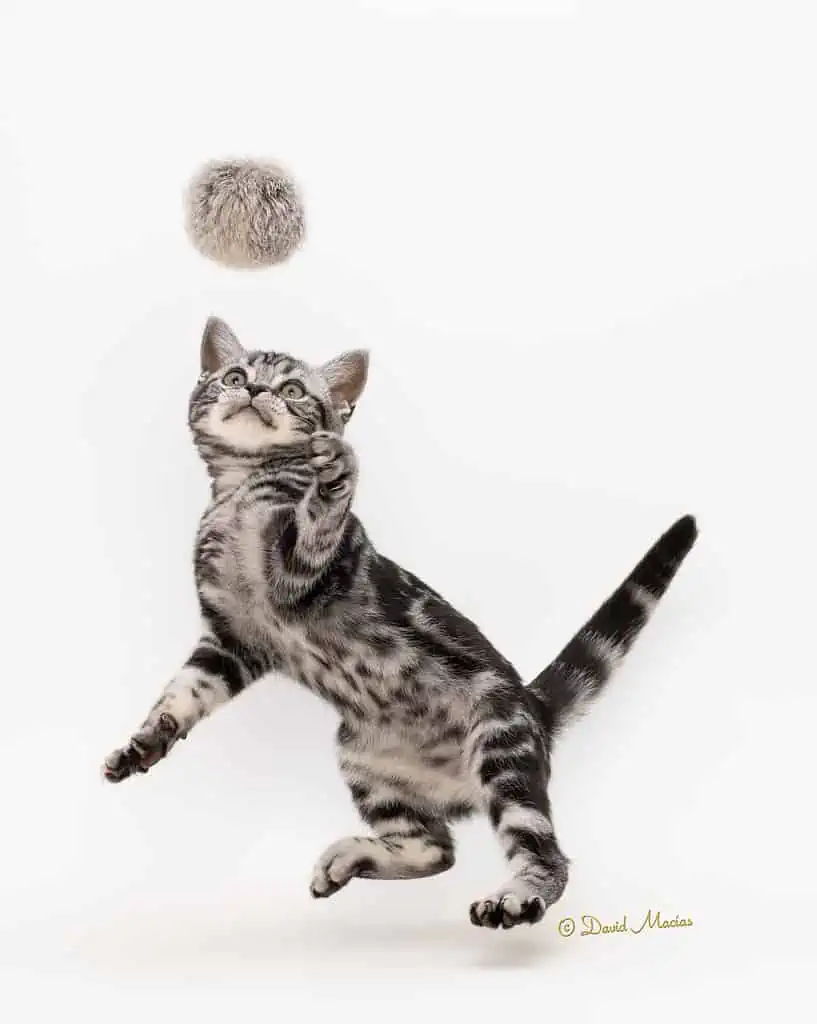 A good representation of our American Shorthair babies, healthy, fat, and mama's that are incredibly attentive.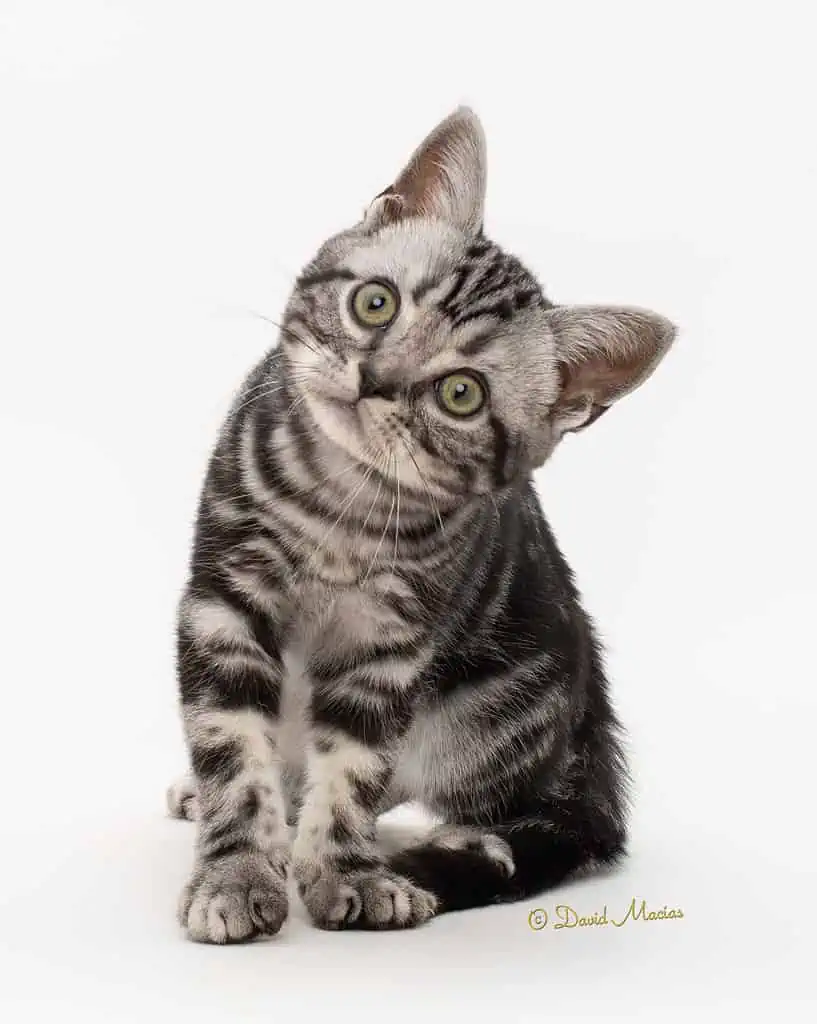 Two gorgeous six-week-old kittens.
The american shorthair Cat