American Shorthair Kittens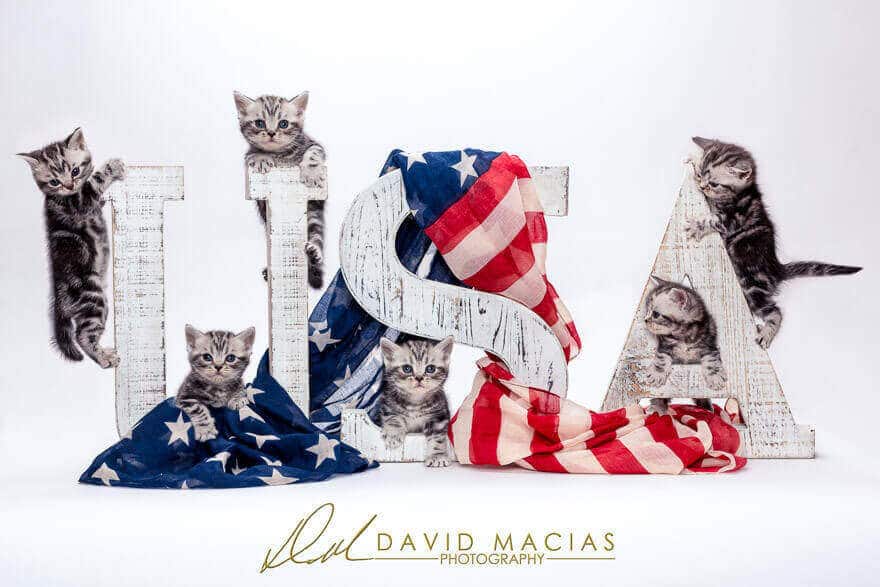 We are American Shorthair Breeders based in Southern California and place our kittens with a solid heath guarantee. Our kittens will be socialized and will have all their required vaccines before they leave for their forever homes.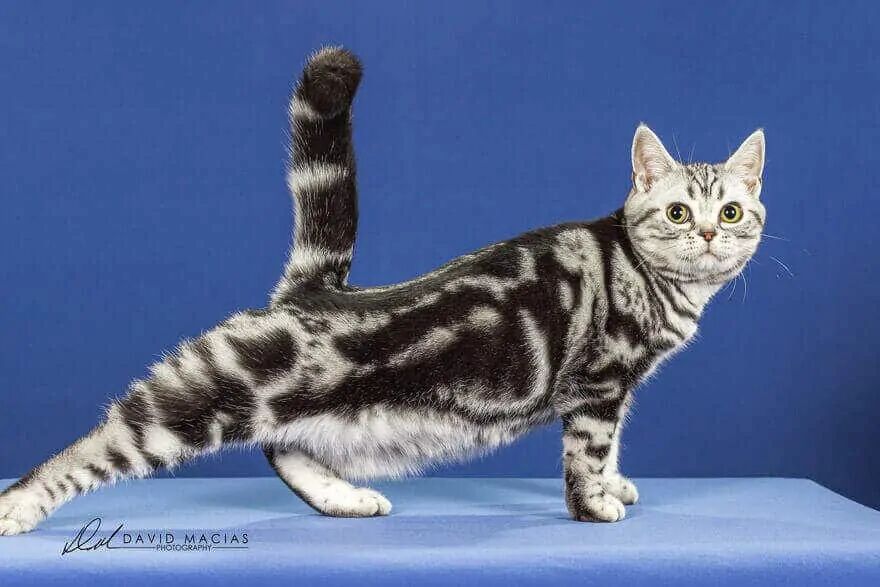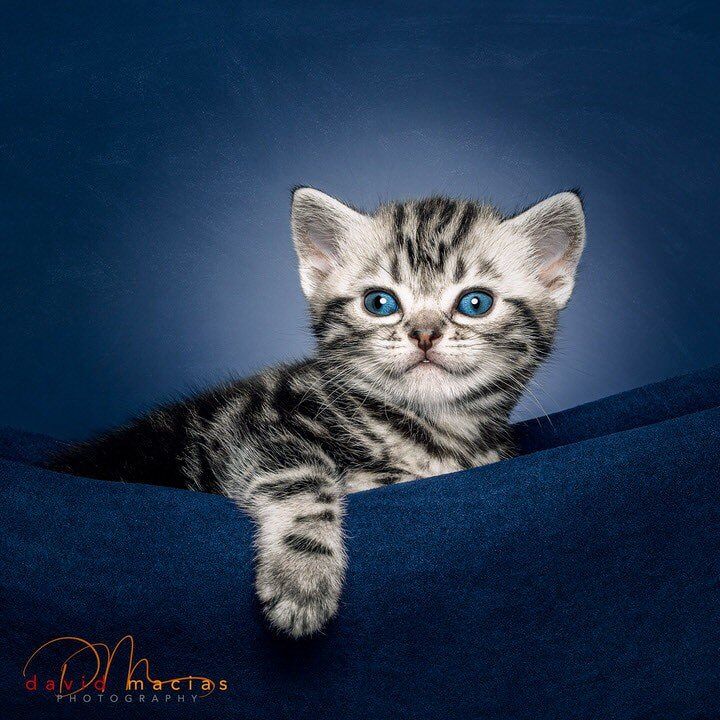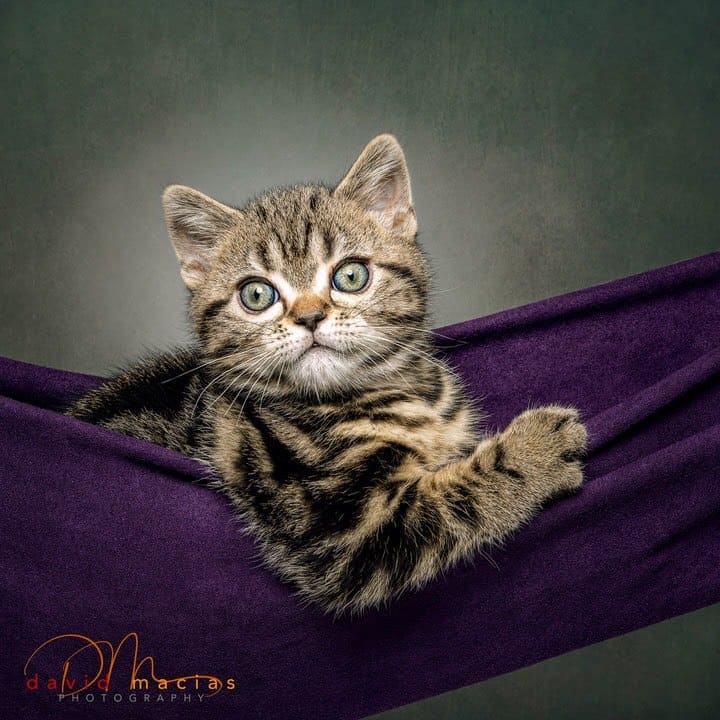 American Shorthair Kittens are known for their longevity, robust health, good looks, quiet disposition and amiability with children and dogs. The American Shorthair, also known as ASH, is America's own breed, whose ancestors came to North America with early settlers from Europe. Records indicate that the "Mayflower" carried several cats to hunt ship's rats. For centuries, "working cats" flourished along with their pioneer owners and eventually established themselves as the native North American short haired cat.
American Shorthair Breeders consider the silver tabby as the most well-known color today, with dense black markings set on a sterling silver background. You probably have seen an example of this striking variety in television and magazine advertising or in recent movie roles.
The American Shorthair Silver Tabby is the most popular color with the Brown Tabby and Silver Tabby and White as a close second. There are over 80 color variations to choose from so finding the best color to match your style will not be difficult.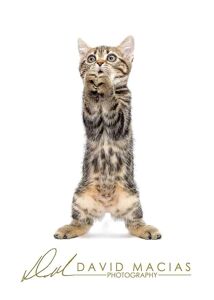 American Shorthair Kittens
Are a medium-sized cat, but it's a very powerful one. She is heavily muscled and has heavy boning. Her rounded, thick appearance makes you realize that she will be heavy when you pick her up.
They are known for a number of name such as the American Shorthair Silver Classic Tabby, Classic Tabby, Silver Classic Tabby, among others.
American Shorthair Breeders bred a cat that is powerful and well structured. All components of this cat should be well developed. With a broad chest, a muscular neck, strong jaws and a well-developed muzzle, the American Shorthair is one of the most powerful cats of the domestic feline world. Its legs are thick and strong with well developed hindquarters. She looks like what she was originally meant to be, a powerful cat to keep rodents out of the barn and the house.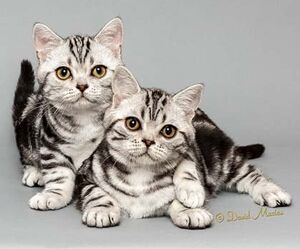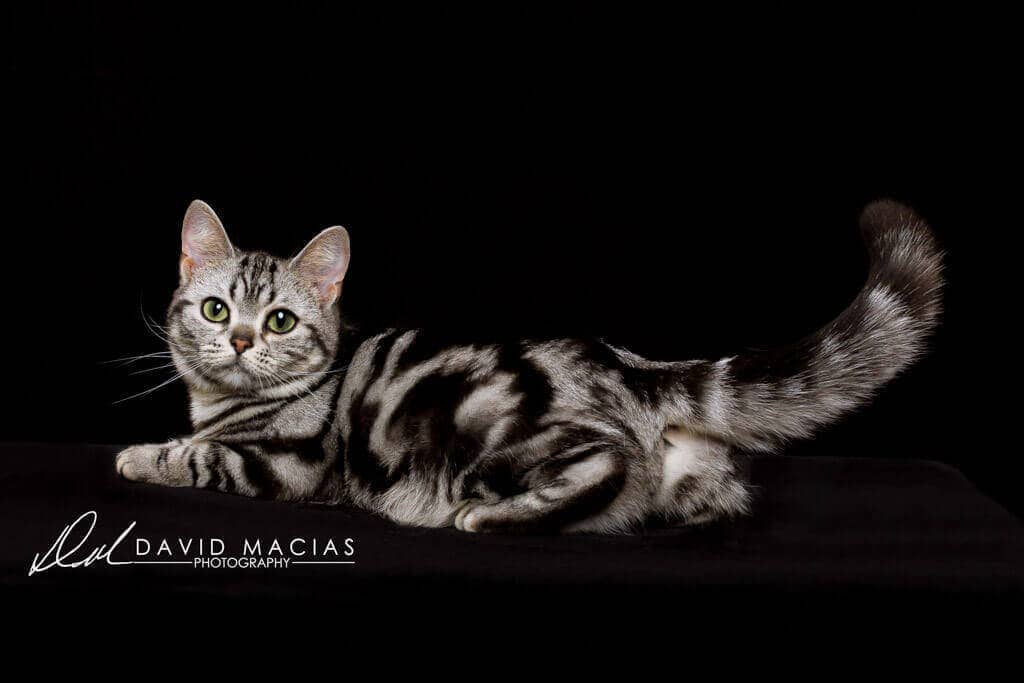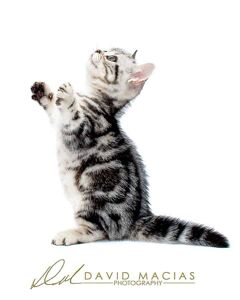 Besides kittens, we might have a retired adult that is looking for a loving home. If you are interested in one of these adults, please click this link Available Adults to see if we have one of our gorgeous American Shorthair Cats that are now retired.
"We've done a lot of research to find the best breed for us...and found Millakats...they had the most beautiful Americans Shorthair cats ever! We knew that this is what we wanted to adopt; pretty, friendly, and a playful kitten...whenever we have questions, we ask David and he responds in no time. We are so happy about the beautiful new member in our family and the wonderful service David has given us. We truly feel that we are family. Thank you so much for everything, David and Mila!"
"We fell in love with our "Louie" at first sight. He has been a total joy since bringing him home – fully potty trained, great appetite, strong & healthy, full of playfulness and mischief. Boy do we enjoy his cuddles – especially in the evening when we are relaxing watching TV. He'll climb up our chests and give kisses & rubs under our chins before he settles down on our chest or lap. Love him like crazy. Such a sweet baby boy."
"We knew the first time that we visited Milla's Kats that they were the breeder for us...They were warm and welcoming and provide such a loving and clean environment for all of their cats. Their love for not only the breed, but cats in general is proven by the strays that they have rescued...Romeo & and Milla's Kats have exceeded our expectations. They continue contact with us to check in, and help when we reach out with questions."
"From the first time we spoke to David, we knew Milla's Kats was the right fit for our family. The level of care, patience, knowledge and attentiveness David demonstrated and continues to have with our family is unprecedented....The boys absolutely adore her...."
"...I borrowed my Granddaughter to help me check out "Milla's Kats"...We found beautiful cats and kittens...David and Milla were very gracious..."
"Thank you Milla and David for our wonderful Mylo...He is so affectionate and fun. He is gentle and playful with our grandchildren and already has the run of the house. His adjustment to his new home is a credit to the way you socialize and care for your kittens. Your devotion to your kittens was evident every step of the way...
"We just bought our second Silver Tabby from Milla's Kats. The first is now 1 year old. The new one is 4 months old. We adore them. They have two completely different personalities, but both are stunningly beautiful, vigorously healthy and extremely sweet. They each reflect the loving care with which they were raised....
"Joy entered our lives this spring. His name is Bacio Magnifico, Italian for magnificent kiss and indeed he is! Bacio's amazing personality shows he was raised in a loving home. You couldn't ask for better care than what Milla's Kats provides....
"...We contacted David and told him that we wanted a boy and girl American Shorthair Tabby kitten. We visited David and Milla and were very impressed with their cats, their care and their approach to breeding superior cats....
"The owners of Milla's Kats truly love and care their cats. I visited their cattery before I decided to get a kitten from them. It was a great experience and I immediately fell in love with their American Shorthair Kittens..."
"From a family of 4 with 2 younger children, a 7 and a 2 year old. We were worried about a new kitten fitting in and not having them run for the hills. Well, I can tell you that we are very happy with our new family member who has taken to the family like a pro. Our new kitten, Olive, came in and was affectionate from the get-go..."
If, like us, you believe that the day God created the first cat was one of God's best days...you'll agree too, upon meeting a kitten from Milla's cattery, that these American Short Hair kittens were precisely what God had in mind when he created cats: confident, charming, playful, healthy, gorgeous, and robust, and loving....We cannot recommend Milla's cattery highly enough....
"From the moment I was warmly welcomed into the spotlessly clean, organized, and cat-loving home of David and Milla Macias, I knew I had found the perfect couple who would help me make my long-time dream com true to have an American Shorthair silver tabby kitten of my own...."
"I could not have asked for a more perfect cat. He is an absolute joy. You guys have done such an amazing job. He is the sweetest. We are all over the moon with him. His personality is identical to Willow's. They play perfectly together. He has brought so much happiness to her and calms her..."
"Thank you so much for our sweet Hemi kitty. She is purrfect!! She is full of energy and loves to be cuddled and held. She is strong and healthy and we are looking forward to many wonderful years together!! Thank you!! We couldn't be more in love or happy!!"
"Purchasing a kitten from Milla's Kats was a great experience. David made it very easy for me. He was always available to answer my questions and he was very informative and helpful. I would highly recommend Milla's Kats to anyone interested in an American Shorthair..."
"We picked up our new kitty, Georgie, for Valentines Day 2019! Georgie took to our family right away and he gets along fabulously with our low energy Pekingese dog. Georgie is such an affectionate cat and warms up quickly to our friends and family. David and Milla did such an excellent job socializing Georgie and preparing him for his new home.You can see how David and Milla truly love and care for these cats! Thank you both so much."