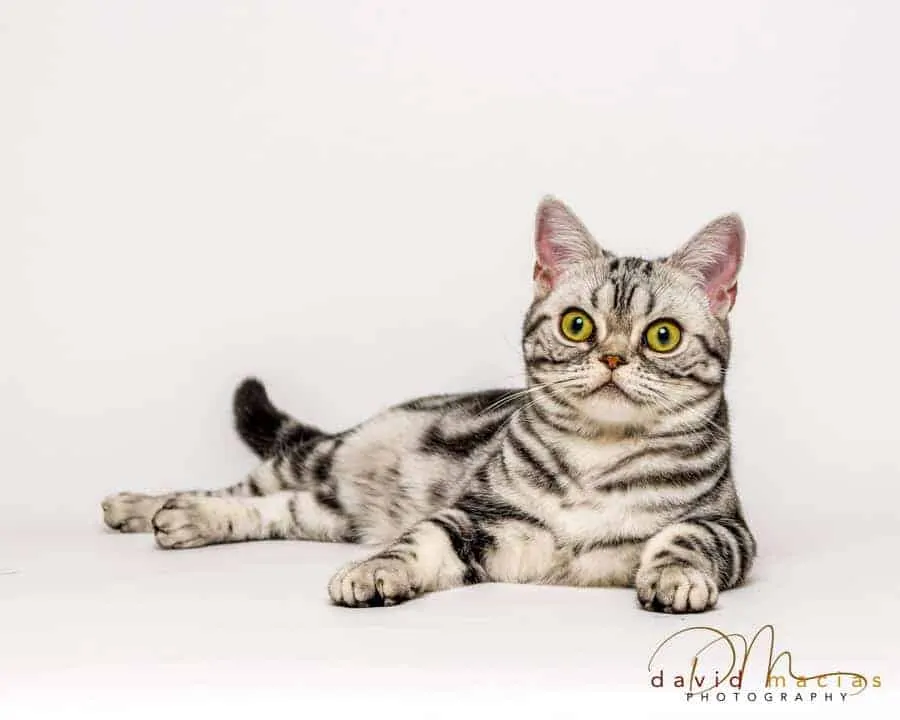 16 American Shorthair Facts
The American Shorthair is a medium to large cat. It arrived in America by early settlers. They brought them to keep mice and rat population under control.
Soon it became America's own cat and developed into a full-time working cat.
Because of its closeness to its human companions, the American Shorthair cat became a very sociable and adaptable cat. It's incredible mousing abilities earned him the title, a "must have cat." Farms would find themselves lost without these great mousers. Soon store outlets and homes acquired them for the same purpose. Its menu included mice, rats, squirrels and chipmunks.
More American Shorthair Facts. They became fashionable to own. This very sociable, incredibly beautiful cat was very accepting of other pets and children. Soon it found itself in urban homes. It became the companion we see today, lovable, affectionate, active, and sociable.
The American Shorthair was first known as the Domestic Shorthair. Breeders began breeding their finest qualities and soon its name changed in 1966 to the American Shorthair. The name change represented its "All American" character and it was to differentiate them from their short-haired cousins.
Today there are over 210 different color variations. The American Shorthair is known to have the longest life expectancy of any purebred cat. They are also very healthy and have few health issues. Being an active cat, they will soon become your entertainment. They're very trainable and can be trained with a harness to go for walks. They also like to keep you company and visit pet friendly locations.
Below are some interesting American Shorthair Facts on this precious cat.
16 American Shorthair Facts
American Shorthairs can weigh 8 to 12 pounds (5.44 kg) at maturity.
American Shorthair has a thick, dense coat and comes in over 210 colors variations and patterns. Coat might be pure white, silver, cream, blue, reddish, golden, brown or black, or two- and tri-colored (Silver Tabby is the most popular of all colors).
American Shorthair has massive head, full cheeks, extensive muzzle and robust jaws. It has broad chest, sturdy, muscular physique, thick legs and tail of medium size.
American Shorthair has large, expressive eyes that may be copper, gold, or green.
American Shorthair is easy-going, calm and clever cat that's great in homes with children and other pets, including dogs.
American Shorthair is a superb cat for those that live alone.
American Shorthairs are very independent and don't require a lot of attention.
American Shorthairs like to play with its family and loves puzzles. It can be taught to perform various tasks.
American Shorthairs entertain themselves if they don't have a companion to play with.
American Shorthair is not very vocal, it doesn't create a mess in the home when left alone. It likes to relaxation by the window sunbathing and watching birds, squirrels and other animals.
American Shorthair does well in the company of strangers who visit the home.
American Shorthair sheds like all other cat breeds. Brushing them once or twice a week is recommended, it's both therapeutic and great for keeping the coat healthy.
American Shorthairs have an average littler of two kittens. Because of the square conformation they can only have so many babies.
American Shorthairs are very healthy; however, they do suffer from hypertrophic cardiomyopathy.
American Shorthairs require a well-balanced diet in order to keep good weight and a healthy lifestyle. Raw diets are the best preferred.
American Shorthairs have the longest life-expectancy of 15 to 20 years.
Visit our Available Kittens page to learn more about our litters and upcoming kittens. For more American Shorthair Facts please visit our History page.
The american shorthair Cat